Fake Elon Musk Bitcoin Giveaway
Have you heard of the Elon Musk Bitcoin giveaway scam? Well, if you haven't then you are in the right place. The crypto sphere is currently dealing with yet another major scam and millions are being lost. Elon Musk giveaways continue to scam people on YouTube and the scammers are bagging millions of money from people who want to double their cryptocurrency.
I know the name Elon Musk probably sounds familiar and that is why most people fell for the scam. Elon Musk is the reigning Tesla CEO, obviously, he is rich and would probably be in a place to double your Bitcoin, but why would he do that? Other celebrities whose names are being used in this particular scam are Virgin Galactic Chairman Chamath Palihapitiya, and U.S. presidential candidate Michael Bloomberg. This is probably a result of the rise in unemployment grows during the Coronavirus pandemic and the resulting economic crises.
In the past, several celebrities have been used to promote fake Bitcoin giveaways. Some of them include Amazon CEO Jeff Bezos, Rich Dad Poor Dad author Robert Kiyosaki, FUBU CEO Daymond John, Coinbase CEO Brian Armstrong, Apple co-founder Steve Wozniak, Microsoft founder Bill Gates, Epic Games CEO Tim Sweeney, and former Google CEO Eris Schmidt among others.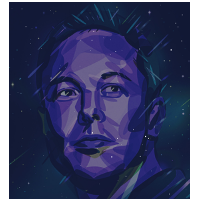 What is the Elon Musk Bitcoin Giveaway scam?
Unfortunately, this is not the first Bitcoin scam and certainly won't be the last. So basically, the Elon Musk Giveaway Bitcoin scam entails videos on YouTube claiming that Elon Musk is giving away 5,000 BTC or 10,000 BTC. The videos claim that to participate you just need to send 0.1 BTC to 20 BTC to the contribution address and they will immediately double your amount and send it back. The more Bitcoin you send; the more Bitcoin you will get back.
These scammers have been using Bitcoin addresses containing the name Elon Musk, Spacex, or Tesla. They ask their viewers to send them Bitcoin promising to return twice as much BTC sent immediately. The recent Spacex launch and an interview with Elon Musk are some of the factors that pulled people in. On June 20th, the scammers uploaded the Elon Musk 5,000 BTC giveaway scam YouTube video. The BTC address for these scams starts with some variation of Elon's name. More than 200 BTC have been sent to the Elon Musk vanity addresses which is more than $2 million based on the current exchange rates. However, the amount could be more since the scammers do not just use vanity addresses.
How does one avoid these scams?
I will start by saying that first of all, people work very hard for their money and no one in their right senses give away even the smallest amounts of money to strangers for whatever reason. Therefore, it is very unwise to send your Bitcoin hoping it will be doubled. Work hard for your money, earn in honest ways, and learn to be content. Also, if you come across a Bitcoin scam address, you can report it directly to this site, seekoin.com; you will be able to ascertain whether the address has been reported for scams, check the report history, and monitor stolen Bitcoin. These Bitcoin addresses searches will enable you to identify and perhaps help another Bitcoin user that would have been scammed. There have been many reports on this site so far.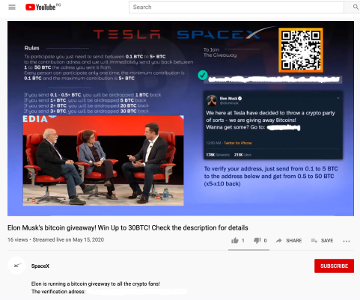 The Bitcoin addresses involved in the fake giveaways